NH Jeep
owners will be excited to know that they are driving the same vehicle as Ferrari's Formula 1 team!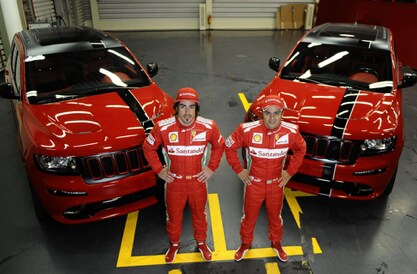 With the season fast approaching, Team Ferrari's Formula 1 drivers-Felipe Massa and two-time world champion Fernando Alonso-were on hand in Maranello, Italy, recently to show off what they'll be driving this year: A pair of high-tech performance machines, dressed in Ferrari's iconic Rosso Corsa ("race red") livery and ready to tear up the track. Oh, and the drivers also introduced their new Ferrari racecars, too.
You see, the first two vehicles were actually specially and identically prepped Jeep Grand Cherokee SRT8s, which were given to Alonso and Massa to celebrate the debut of Jeep's performance flagship in the European market. It's just that the Chrysler Group's SRT (Street Racing and Technology) brand went out of its way to ensure the drivers would feel at home inside their unique rides.
New Hampshire Jeep Dealer has the all new 2012 Jeep Grand Cherokee
This includes adding some Ferrari-friendly flair to the Grand Cherokee SRT8, with the addition of a black racing stripe that's offset to the driver's side of the vehicle, a matte-black grille with custom red inserts, and, on the underside of the rear spoiler, a painted Italian flag. White accents add further flash to the Jeep's bumpers, hood, roof and rear spoiler, as do carbon-fiber mirror caps and a gloss-black, red-accented rear light bar.
The cabin is fit for a champion, with plenty of Ferrari Red leather covering the seat inserts and bolsters, door-trim panels, central armrest, instrument panel, and steering wheel. Red contrast stitching is used where appropriate, while drivers will enjoy an exclusive, Ferrari-esque instrument cluster with yellow dials.
The whole package then sits on unique forged-aluminum, black-painted 20-inch wheels, with a ride height that's 1.5 inches lower than the "regular" Jeep Grand Cherokee SRT8.
What hasn't been adjusted is the vehicle's powertrain; thanks to a new 6.4-liter HEMI V8 that makes 470 hp and 465 lb.-ft. of torque, there's already race-ready power on tap. Not as much as in an F1 racer, but the
2012 Jeep Grand Cherokee
SRT8 benchmarks a 0-60 time of 4.8 seconds, a quarter-mile time in the mid-13s, a top speed of 160, and a 60-0 distance of 116.
Stop by our
New Hampshire Jeep
dealer in Gorham,
Berlin City Jeep Chrysler Dodge
, and take one of these Jeeps for a test drive. We guarantee you will be impressed with the power as it throws you back into your seat as you step on the accelrator!
Source: Chrysler in the News: Jeep Grand Cherokee: The SRT8 for F1 Drivers, http://www.chryslerinthenews.com/jeep-grand-cherokee-the-srt8-for-f1-drivers/